Berikut ini beberapa Free antivirus yang support dengan Windows 7
Avast Free Antivirus
[ Download ]
Antivirus and anti-spyware engine
avast! Intelligent Scanner
Silent/Gaming Mode
Behavior Shield
Real time anti-rootkit protection
Smart virus updates
avast! Community IQ
Behavioral Honeypots
Green computing
avast! iTrack
File System / Mail Shield
Web Shield
IM / P2P Shield
Network Shield
Compatible with Windows XP, Vista and 7
Avira AntiVir Personal – FREE Antivirus
[ Download ]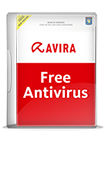 Avira AntiVir Personal – FREE Antivirus is a reliable free antivirus solution, that constantly and rapidly scans your computer for malicious programs such as viruses, Trojans, backdoor programs, hoaxes, worms, dialers etc. Monitors every action executed by the user or the operating system and reacts promptly when a malicious program is detected. Avira AntiVir Personal is a comprehensive, easy to use antivirus program, designed to offer reliable free of charge virus protection to home-users, for personal use only, and is not for business or commercial use. Available for Windows or UNIX.
AVG Anti-Virus Free Edition 9.0
[ Download ]
It's always been our philosophy at AVG that everyone has the right to basic computer security at no charge. And our 110 million think we're doing a pretty good job. So if you're planning to spend time online and you regularly exchange files with friends, check us out.
Surf, and search with confidence, while LinkScanner® keeps you safe from harmful sites
Get online and offline protection from viruses, spyware, and other nasties
Enjoy consistently high-speed PC performance with our new enhanced virus scanner
Automatic updates keep your protection current
Compatible with Windows 7, Windows Vista, Windows XP and Windows 2000
Comodo Firewall and AntiVirus
[ Download ]
free Firewall and AntiVirus to take the first step in protecting your PC from malware, viruses, worms, and more.
Comodo Internet Security 4.0 includes a built-in sandbox which combines file system/registry virtualization and least-privileged user account principle in order to combat unknown malware.
During the setup process you will be given the choice to:
Install the AntiVirus as a standalone
Install the Firewall as a standalone
Install both Firewall and AntiVirus
Microsoft Security Essentials
[ Download ]
Microsoft Security Essentials provides real-time protection for your home PC that guards against viruses, spyware, and other malicious software.
Microsoft Security Essentials is a free* download from Microsoft that is simple to install, easy to use, and always kept up to date so you can be assured your PC is protected by the latest technology. It's easy to tell if your PC is secure — when you're green, you're good. It's that simple.
Microsoft Security Essentials runs quietly and efficiently in the background so that you are free to use your Windows-based PC the way you want—without interruptions or long computer wait times.
Panda Cloud Antivirus
[ Download ]
The first free antivirus from the cloud
Preactivated version does not require account creation during install
Fix for certain conditions of stuck quick & full scan
Improved cloud-heuristic detection for unknown malware – From HF_2
Improved prevalence algorithms for priorization of new malware – From HF_2
Fix of problems scanning certain files in system directories – From HF_1
Fix for loss of connectivity after malware disinfection involving LSP – From HF_1
Improved cloud-heuristic detection – From HF_1