Indonesian Flash Games Download – Addicting Game
Addicting Game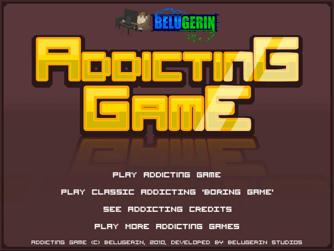 Description:
An addicting action avoid game, play through 40 unique levels, avoid addicting red blocks and collect addicting gold coins.
Designer: Arief Raditya Purwanto (belugerin)
Programmer: Arief Raditya Purwanto (belugerin)
Site: Belugerin
Artwork: Awaken Dreams Studio
Music: Kevin macLeod
Genre: Skill -Avoid
Size: 2.35 MB
Instructions:
Use addicting arrow keys or AWDS to move.
Use addicting mouse to target.
Hold addicting left mouse to shoot. (Shoot only available at level 36 and higher)
Avoid addicting red blocks.
Collect addicting gold coins.
Press P to pause.
Addicting Medals!
Screenshots:
Download:
http://www.mediafire.com/file/gfe463k2wwzsiex/Addicting_Game.swf