Indonesian Flash Games Download – Myth Wars Game
Myth Wars Game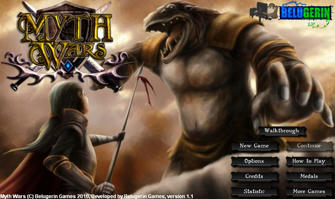 Description:
Choose your side, Dark Age Vs. Medieval Age. Enter enemy territory by air, sea and land.
Designer: Arief Raditya (belugerin)
Programmer: Agung C Putro
Site: Belugerin
Artwork: Awaken Dreams Studio
Music: Kevin macLeod
Genre: Strategy
Size: 5.18 MB
Click unit to spawn.
Move mouse to edge of screen to scroll.
Click mouse when scrolling to fast scroll.
Set strategy each units: Full Defend, Defend, Attack and Full Attack.
Conquer all levels to finish the game.
Screenshots:
Download:
http://www.mediafire.com/file/wxqh8gw1uqeaa11/MythWars.swf