Pagi ini setelah aku buka buku Teknologi Informasi dan Komunikasi SD kelas 1 punya anakkku, aku menemukan "Mengenal Paint" pada bab 5.
Di buku itu disebutkan bahwa tujuan untuk mengenal software pengolah gambar dan diharapkan si anak mampu untuk :
Mengenal Software Paint

– Mengenal tampilan layar paint
– Mengenal ikon dan menu di Paint

Menggunakan ikon-ikon untuk menggambar
Menunjukkan gambar
Tapi bukan Paint yang aku perhatikan di situ, tapi adanya software pengolah gambar selain paint, yaitu Drawing for Children dan Tux Paint. Kedua software tersebut seperti Paint, tapi mempunyai tampilan yang lebih menarik bagi si anak dan juga disediakannya gambar-gambar siap pakai yang berupa stamp dan backgound.
Kalau kita bicara tentang pengenalan komputer pada anak secara dini, hal tersebut tidaklah mudah. Si anak akan lebih suka bermain. Tapi bagaimana cara bermain tersebut kita alihkan menjadi permainan interaktif, itulah yang harus kita pikirkan sebagai orang tua.
Untungnya,saat ini kita tidaklah kesulitan untuk mendapatkan software-software untuk anak-anak kita. Baik itu yang free sotware atau dengan beli software-sofware education.
Software Gambar untuk Anak
Berikut ini beberapa software gambar untuk anak yang gratis kita peroleh.
Drawing for Children
Drawing for Children merupakan free drawing program untuk anak dengan opsi dan tampilan yang menarik. Kita dapat menggambar bermacam-macam pens yang berbeda, kita dapat mengambil gambar jaddi/ stamps, membuat text effect, dan lainnya. Software/ program ini di tujukan untuk anak-anak yang masih kecil, tapi tidak menutup kemungkinan anak-anak yang lebih besar menggunakannya.
Drawing for Children berjalan di PC dengan sistem operasi Windows 95 sampai Windows 7.
Download
Download execute  file:
Drawing for Children version 2.2 (1.2M)
Download  zip file:
Drawing for Children version 2.2 as zip file (1.2M)
Tux Paint
Tux Paint merupakan software gratis drawing program yang ditujukan untuk anak berumur 3 sampai 12 tahun. Tux Paint mempunyai kombinasi tampilan yang mudah digunakan, sound effect yang bagus, dan cartoon maskot yang memandu anak dalam penggunaan software/ program.
Fitur yang terdapat pada Tux Paint yaitu :

Multi-Platform

Works on Mac OS X (Intel and PPC), Windows (Windows95 through Vista), Linux and other systems.

Simple Interface

A number of useful drawing tools are made available.
The drawing canvas is a fixed size, so the user doesn't need to worry about 'pixels' or 'inches' when making a new picture.
The entire program fits on a screen as small as 640×480, and can be displayed full-screen, to hide the computer's underlying 'desktop' interface. (It defaults to 800×600 mode, but can run at larger sizes and in portrait or landscape mode, as well.)
Loading and saving of images is done using thumbnails, so no knowledge of the underlying operating system's filesystem structure is needed. Even filenames are unnecessary.

Entertaining Interface

Fun sound effects are played when tools are selected and used.
A cartoon version of Tux, the Linux penguin, appears at the bottom to give tips, hints and information.

Drawing Tools

Paint brush

Various brushes available
Parents/teachers can add more brushes
Brushes can be animated
Brushes can change shape depending on the direction they're drawn
Alternate color palettes can be created and used

Rubber stamp

Hundreds of photographic and cartoon stamps images are available
Parents/teachers can add more stamps and create categories
Stamps can have descriptive text and sound samples (names, facts, etc.) and/or sound effects assigned to them
Stamps can be resized, flipped and mirrored
Raster bitmaps (Portable Network Graphics ("PNG")) with full-color and alpha transparency (32bpp RGBA) supported
Vector graphics (Scalable Vector Graphics ("SVG")) supported

Line tool

Uses Paint Brush's brushes
'Rubberband' shows where the line will be drawn as you move the mouse

Shape tool

Draw various filled and unfilled polygonal shapes
Rotate shapes (this feature can be disabled for younger children)

Text and Label tools

Come with various fonts
Bold, italic and size can be changed
Parents/teachers can add more fonts
Supports numerous languages
Labels may be moved or edited later (Coming soon)

'Magic' (special effects) tool

Blind – pull window blinds down, or across, the picture (Coming soon)
Blocks – turn parts of the picture 'blocky'
Blur – blur parts of the picture using the mouse
Bricks – paint realistic large or small brick patterns
Calligraphy – a smooth brush that changes thickness depending on how quickly you stroke
Cartoon – make parts of the picture look like a cartoon
Chalk – make parts of the picture look like a chalk drawing
Color & White – turn the picture monotone
Color Shift – Jumble the colors of the picture
Confetti – Throw confetti over your picture
Darken – darken the colors of parts of the picture
Distortion – slightly alters the position of the picture under the brush
Drip – make parts of the picture look like it's dripping away
Edges – outline the edges of shapes in yur picture
Emboss – gives the image's edges highlights and shadows
Fill – 'flood-fill' an area with a particular color
Fisheye – view parts of your picture through a fish-eye lense
Flip – flip the image vertically
Flower – draws curvy-stalked flowers
Foam – paints foamy bubbles that grow as you move the mouse
Fold – fold down the corners of your picture
Glass Tile – see your drawing through glass tiles
Grass – paint realistic clumps of grass on the screen and into the distance
Hexagon Mosaic – create a pattern of hexagons (Coming soon)
Irregular Mosaic – turn your picture into a mosaic of shards (Coming soon)
Kaleidoscope – four symmetric brushes
Light – draw beams of bright light on your picture
Lighten – fade the colors of parts of the picture
Metal Paint – paints shiny metallic colors
Mirror – flip the image horizontally
Mosaic – make your picture into a mosaic of colors
Negative – invert the colors of parts of the picture
Noise – add random noise to your picture
Perspective – bend your picture to view it from different perspectives (Coming soon)
Picasso – a triplet of brushes that paint in unison
Puzzle – shift parts of your picture around like it's a sliding puzzle (Coming soon)
ROYGBIV Rainbow – draw a rainbow arc of seven solid colors (Coming soon)
Rails – draw connecting train tracks
Rain – add raindrops to your picture
Rainbow – draw using a brush that paints in all colors in the rainbow
Real Rainbow – draw a colorful arc based on a real photo of a rainbow
Ripples – rippled waves over your image
Rosette – three brushes that draw in a rosette pattern
Shift – move the entire picture around
Silhouette – turn parts of your picture into a silhouette
Smudge – push the colors around as though smudging wet paint
Snow Ball – cover your picture in snowballs
Snow Flake – cover your picture in snowflakes
Square Mosaic – create a pattern of squares (Coming soon)
String V – draw V-shaped string art
String corner – draw string art
String edges – draw string art around the edges of your picture
TV – make your picture look like it's on a television
Tint – change the color of parts of the picture
Toothpaste – paint with colorful gel
Tornado – add a tornado funnel to your picture
Wavelets – wiggle your picture up and down
Waves – wiggle your picture side to side
Wet Paint – draw with wet, smudgy paint
Zoom – zoom your entire picture in or out (Coming soon)
… plus, programmers can easily and quickly create new 'Magic' tools using a plug-in interface!

Eraser
Undo

Multiple levels of undo
Undo actions can themselves be undone with the 'Redo' button

Commands

Save

Save a picture to the virtual 'picturebook'
One-click save: No file browser dialogs or filename prompts are used
If saving an opened picture, choose to save over it (like 'Save' in desktop programs), or save a new picture (like 'Save As')

Open

Open a previous drawing by selecting its thumbnail in a virtual 'picturebook'
Delete previously-saved pictures

Slides

View a slideshow of multiple saved drawings
Control the speed of playback; create class presentations or simple looping animations
Go forward or back using the arrow keys or mouse

Starters

Various coloring-book-style images included
Photographic scenes included, with foreground and background elements that you draw in between
Vector graphics (Scalable Vector Graphics ("SVG")) supported
Kid Pix templates ("KPX" files) supported (Coming soon)

Print

Print pictures on a printer

Translations

Parts of Tux Paint have currently been translated into the following languages:

Afrikaans
Albanian
Arabic
Asturian
Azerbaijani
Basque
Belarusian
Breton
Bulgarian
Catalan
Chinese (Simplified)
Chinese (Traditional)
Croatian
Czech
Danish
Dutch
English (Australian)
English (British)
English (Canadian)
English (South African)
English (USA) (default)
Esperanto
Estonian
Finnish
Faroese
French
Irish
Gaelic (Scottish)
Galician
Georgian
German
Greek
Gronings
Gujarati
Hebrew
Hindi
Hungarian
Icelandic
Indonesian
Italian
Japanese
Khmer
Kinyarwanda

Klingon (Romanized)
Korean
Kurdish
Latvian
Lithuanian
Macedonian
Malay
Malayalam
Ndebele
Norwegian Bokmål
Norwegian Nynorsk
Occitan
Ojibway
Persian
Polish
Portuguese (Brazilian)
Portuguese (Portuguese)
Romanian
Russian
Serbian
Shuswap
Slovak
Slovenian
Songhay
Spanish (Mexican)
Spanish (Spanish)
Swahili
Swedish
Tagalog
Tamil
Telugu
Thai
Tibetan
Turkish
Twi
Ukrainian
Venda
Vietnamese
Walloon
Welsh
Wolof
Xhosa
Miahuatlán Zapotec
Download
Tux Paint berjalan di berbagai platform antara lain Windows 95/98/ME, Windows XP/ 2000/ Vista/ 7, Mac OS, Debian GNU, Ubuntu, RPM, Slackware, OLPC XO-1, BSD, Zaurus, Nokia 770/800, BeOS, OS/2, MacOS 9. Dan juga disediakan Source Code untuk di compile sendiri.
Pilihan Download yang sesuai dengan sistem operasi yang kita pergunakan dapat akses di sini
DivineKids – Sekolah Gambar
Sekolah Gambar merupakan produk dari divinekids yang merupakan sarana belajar menggambar lewat komputer.

Di Sekolah Gambar, terdapat bimbingan dan tuntunan step by step tata cara menggambar. Anak TK dan SD akan lebih menyenangkan menggambar dengan menggunakan software ini
Download Sekolah Gambar
Server A : Download 18 Mb
Server B : Download 18 Mb
Kea Coloring Book
Kea Coloring Book merupakan software untuk mewarnai (coloring) suatu gambar. Gambar-gambar telah disediakan di software ini. Kea Coloring Book sangat cocok untuk anak-anak dan juga dapat digunakan untuk segala umur.
Kea Coloring Book terdapat versi free dan versi bayar (Registered $11.95).
Fitur free version antara lain :
Kid Friendly. Mudah dipergunakan, move dan click menggunakan mouse
Coloring Pages. Terdapat 15 gambar yang siap pakai (registered 300+ gambar)
Bucket Fill. Mudah dan cepat mewarnai suatu area dengan paint bucket
Paint Brush. Bebas menggambar dengan paint brush dengan berbagai warna dengan 7 pilihan brush size
Magic Brush.
Marker Pen dan Eraser
Undo
Pain Colors
Color Mixing
Washing Up.
Fun Sound Effect.
Print / Save / Email.
Zoom dan Scroll
Download Kea Coloring Book (Windows)
DivineKids – Dunia Mewarnai Anak
Dunia Mewarnai Anak merupakan produk dari DivineKids untuk balajar anak-anak mewarnai suatu gambar. Software/ program ini mengajak anak-anak untuk mewarnai gambar dengan berbagai macam palet warna sehingga si anak dapat ber-experiment warna.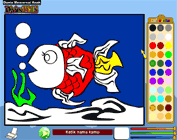 Hasil dari mewarnai gambar dapat di cetak/ print sehingga si anak dapat mencetak hasil karyannya.
Download Dunia Mewarnai Anak – 2.5Mb